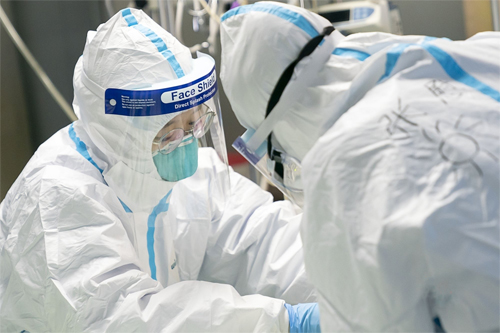 Medical experts in China identified the mysterious pneumonia-like illness as a new strain of coronavirus – 2019-nCoV – in early January.
Coronaviruses (CoV) are a large family of viruses that cause illness ranging from the common cold to more severe diseases such as Middle East Respiratory Syndrome (MERS-CoV) and Severe Acute Respiratory Syndrome (SARS-CoV). A novel coronavirus (nCoV) is a new strain that has not been previously identified in humans.  
Coronaviruses are zoonotic, meaning they are transmitted between animals and people.  Detailed investigations found that SARS-CoV was transmitted from civet cats to humans and MERS-CoV from dromedary camels to humans. Several known coronaviruses are circulating in animals that have not yet infected humans. 
Common signs of infection include respiratory symptoms, fever, cough, shortness of breath and breathing difficulties. In more severe cases, infection can cause pneumonia, severe acute respiratory syndrome, kidney failure and even death. 
Standard recommendations to prevent infection spread include regular hand washing, covering mouth and nose when coughing and sneezing, thoroughly cooking meat and eggs. Avoid close contact with anyone showing symptoms of respiratory illness such as coughing and sneezing.
What are the symptoms this coronavirus causes?
The virus can cause pneumonia. Those who have fallen ill are reported to suffer coughs, fever and breathing difficulties. In severe cases there can be organ failure. As this is viral pneumonia, antibiotics are of no use. The antiviral drugs we have against flu will not work. Recovery depends on the strength of the immune system. Many of those who have died were already in poor health.
Is the virus being transmitted from one person to another?
China's national health commission has confirmed human-to-human transmission, and there have been such transmissions elsewhere.
The Jack Ma Foundation made  a Handbook of Covid-19 Prevention and Treatment available to everyone for FREE download. You can share this PDF and specially to those nurses and doctors who are in the frontline battling this pandemic.

Covid-19 - Prevention and Treatment
Below you can download more detailed information in English given by the CDC (Center for Disease Control and Prevention)

 General Questions

 Questions on Protection

 Questions for Pregnant Women, Mother and Children

 Diagnosis and Treatment

 Psychological Health